At Manchester Adult Education, we're passionate about making sure our learners benefit from Manchester's employment opportunities.
We work to provide meaningful encounters between learners and potential employers. These include arranging mock interviews, employer talks and workshops, work experience placements and insight days.
If you are looking for work, we have lots of face-to-face and online learning opportunities to help you prepare for and secure paid employment. We will help you to make an impact with employers and present your best self. Our Careers and Progression advisors are also on hand to offer one to one career coaching and career conversations, as well as up to date information on the local labour market.
Whatever your next steps and goals, you will be well informed to make the right choices for you.
We have a wide range of delivery models for our Preparation for Work courses and workshops. 
Some of these include classroom-based sessions, online webinars and work placement programmes.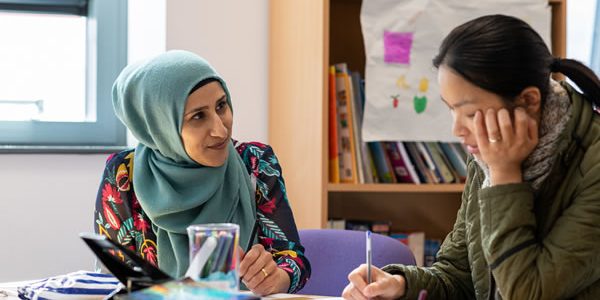 Preparation for Work courses and workshops
Select the course that you are interested in from the list below to find out more.
If you're looking to secure paid employment but are lacking in confidence and your abilities after being out of work for a while, this course is for you. You will learn more about your personal skills and strengths, have the opportunity to focus on your future and develop a practical career plan which is right for you.
These short courses run throughout the academic year, please enquire for more information.
These webinars will support you to move closer to the world of work. You will look at current trends in recruitment methods, create stand out CVs, identify strengths, and learn how you can present your best self to employers and make the impact you need to secure work or progress in work.
We support Manchester residents who are looking to secure employment through pre-employment training as part of a Sector Based Work Academy Programme.
There are variable delivery and duration options as it all depends on the vacancies being recruited for and employer preferences. Please contact our team for more information. 
If you are an employer who is interested in a partnership opportunity with MAES, please contact Emma Langlois to discuss further.
If you would like to request Preparation for Work support for a group, please contact Sue Womersley for more information.
You will find a range of support on offer when you study with MAES. From our friendly and enthusiastic buisness support team located in our learning centres to our well-qualified and committed tutors.
We are also home to Make it Happen – a service run by our dedicated Careers and Progression team who will provide expert knowledge and personalised support to prepare you for the next stage in your career. Find out more below.