Read about some of our community projects with partners in Manchester...
Digital Nature
Over the past 18 months we have all recognised the value of having access to green spaces and the impact it has on our wellbeing. MAES wanted to support those who had been particularly socially isolated during lockdown and those people who would benefit from getting to know their local parks as well as improving their digital skills. In liaison with the Cultural Park Keeper at Whitworth Park and the Manchester Museum, Digital Nature was created. This was a twice-weekly, 6-week course which took place half in the park and half in the classroom. 
Encouraged to create a digital nature basket on their phone; for example, recording birdsong, taking photos, collecting tree species etc., learners would then use this content in whichever way they wanted when back in the classroom; they could edit photos, send emails with attachments, download plant species apps – the choice was theirs!
They even went on a behind-the-scenes field trip to Manchester Museum to see how the staff digitise the exhibits.
This course has been hugely successful and the participants got a lot from it. In fact, now that this initial 6-week course has ended, the group have decided to continue meeting up on their own. One class member is a yoga teacher and they intend to hold group yoga sessions in the park.
Margaret says: "We had a great tutor who was very knowledgeable, patient and great fun. Our visits to the park were a joy and we took some great photographs of interest." 
Lisa says: "I've just taken early retirement so it has given me a real introduction to how I can spend my time outdoors and I've made ongoing friendships." 
The Digital Nature course will run again in 21-22 but based on learner feedback, MAES have decided to deliver it over just one day a week: the morning in the park and the afternoon in the classroom, which makes it easier for people in employment, or with other commitments, to be able to attend. 
The Digital Skills team at MAES have really enjoyed setting up these new courses in response to local needs and interests, and they encourage anyone looking to establish a bespoke course for their organisation to get in touch. You can contact Kate Harrison, Digital Inclusion Lead for MAES, at kate.harrison@manchester.gov.uk.
Skill Up Drop-in Sessions
MAES run digital Skill Ups in a range of community venues across Manchester in response to local need. These are digital drop-in workshops where people can come with whatever digital needs they have and can stay just for one session or can continue to come for an extended period, after which they may progress to a course if they wish.
In addition to offering Skill Ups at their own centres, this year MAES have established Skill Ups at North City Library in Harpurhey, The Roundhouse/Manchester Settlement in Openshaw, Yes Manchester in Newton Heath, and from September 2021 we will have one at Beswick Library.
The longest-running community Skill Up takes place at Central Library in Manchester city centre on a Tuesday morning with the fabulous Clive!
Here is one of the Skill Up learners, Michael, who was supported by Clive during the first lockdown to choose and set up a new device to get online. He is now able to video call and share photographs with relatives and friends around the world. Michael loves his new device and skills: "I'm loving it. It has been so interesting and inspiring."
Digital Health
MAES have also been working closely with the Manchester Health and Care Commissioning team to investigate how best to support digitally excluded people to manage their health online. In partnership with MHCC's project manager for Digital Inclusion and Engagement, a pilot course was set up in Beswick to teach patients how to use the Patient Access app and the NHS app in order to request repeat prescriptions and access health information.
By the end of this short 4-week course, all the course participants had learned how to log onto both apps and request repeat prescriptions. They also learnt how to download health related apps and how to get the best out of their tablets. 
Fatima says: "I have learned so much. Before I couldn't do it, but now I can. If I need to order some cream or some medicine for my kids, I can go on the app, at night, whenever I remember. I'm a lone parent so I am so busy. The app helps me."
A lot of valuable insights were gained as a result of this course and these findings will be disseminated to GP practice managers across Manchester. MAES aims to run similar courses in the next academic year.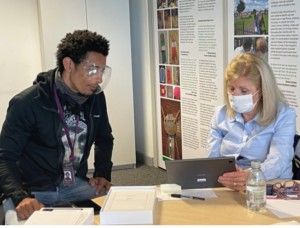 Digital for ESOL
Another pilot course this year, in partnership with the ESOL Advice Service, has looked at how to support low level ESOL learners with online English learning. These 4-week-long courses met twice-weekly at Longsight Library and Learning Centre, North City Library and the Avenue Library and Learning Centre. As not all ESOL learners have access to laptops and tablets, it was decided that the focus of this course should be on using smartphones; learners would be developing their digital skills on the same devices that they use at home. For anyone who didn't have a smartphone, MAES sourced one for them with data (credit to Young Manchester for this).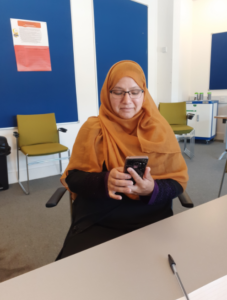 The key course aims were to teach learners how to use email and Zoom in order to access online classes. The Learning Community App was used to deliver the course content. This app has been successfully used with Talk English learners at MAES and is a fantastic learning management system for non-accredited courses.
This course model was a great success and these courses will run again next academic year from the Avenue Library and Learning Centre in Higher Blackley, Greenheys in Moss Side, and Longsight Library and Learning Centre.