What is the right job for you? What skills and strengths do you have that will serve you well in your future career? How do you make a positive impression on employers?
Our Make it Happen courses and sessions offer expert knowledge and personalised support to prepare you for the next stage in your career. 
Identify the right career for you and gain insight into how employers recruit.  

Discover your strengths and develop your personal skills. 

Meet employers and learn how to present your 'best self' when applying for work.
We work with a range of employers to provide meaningful encounters between learners and potential employers.   Encounters include:
mock interviews

employer talks

employer workshops and

work experience placements.
Our Careers and Progression team also offers one to one career coaching and career conversations, as well as up to date information on the local labour market.   
Whatever your next steps and goals, you will be well informed to make the right choices for you.
 If you are an employer and would like to work with us, please get in touch so that we can discuss your requirements. 
We have a proven record of providing pre-employment training on Sector Based Work Academy Programmes, have a Kickstart wrap around support offer and can provide bespoke courses for redundancy and employability support. Please email emma.langlois@manchester.gov.uk for more information and to discuss. 
Make It Happen Opportunities
If you are learning  with Manchester Adult Education and you are looking for work, we have lots of face to face and online learning opportunities to help you prepare for and secure paid employment.
Make It Happen Opportunities
Opportunity description
Make It Happen New Directions
This course is for you, if you are looking for a career transfer as a result of recent Covid -19 economic
impact. If you have lost employment and are looking to quickly secure a role within a different career, we
can help you to determine where your strengths, skills and mindset are well suited. This three
week course will be delivered using a blended approach. The 9 hours of taught sessions each
week will cover a range of employability topics including – skills reframing, resilience and adaptability,
interview techniques, recruiting sectors information, interpersonal communication and job networking
online.
Make It Happen Webinars
These webinars will support you to move closer to the world of work. Joining these
webinars will ensure you can present your best self to employers and make the
impact you need to secure work or progress in work.
Make It Happen Focus Week
This course is suitable for you if you are looking to secure paid employment but are
lacking in confidence and your abilities after being out of work for a while. Join this
course if you want to know more about your personal skills and strengths. You will
focus on your future and develop a practical career plan which is right for you.
Make It Impact Days
These series of sessions over 2 days will build your confidence and resilience, and move you closer to securing employment.
Make It Happen CV Support
In this session, you will be supported to tailor your CV to a current opportunity so that your CV is professional, relevant, personable and impactful.
Our online courses are delivered through Google for Education.  You will be given a Manchester Adult Education email address to take part in online meets and access resources and activities.
Our next New Directions course:
Oct 4th – Oct 20th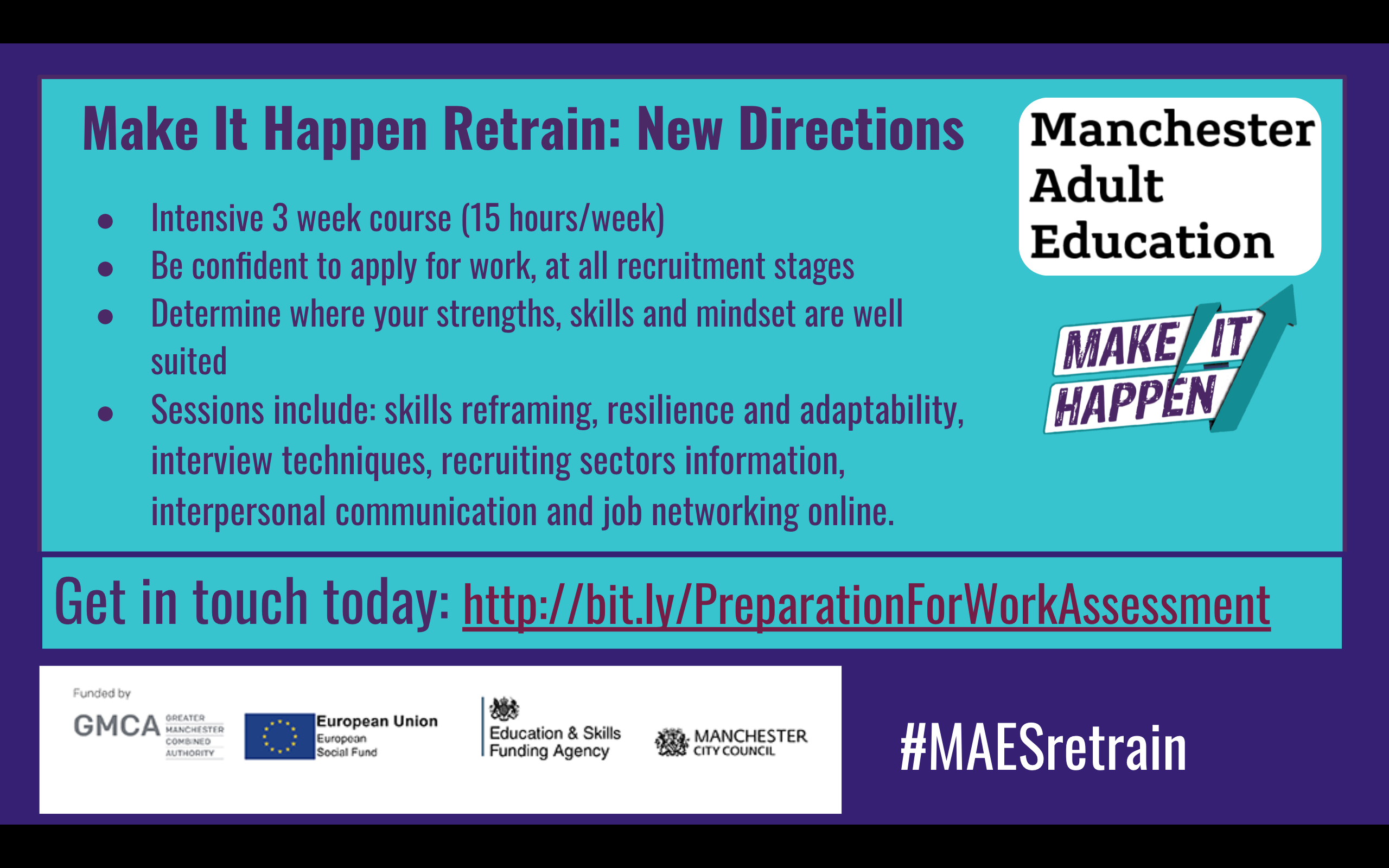 Here is our webinar programme from Sept 2021: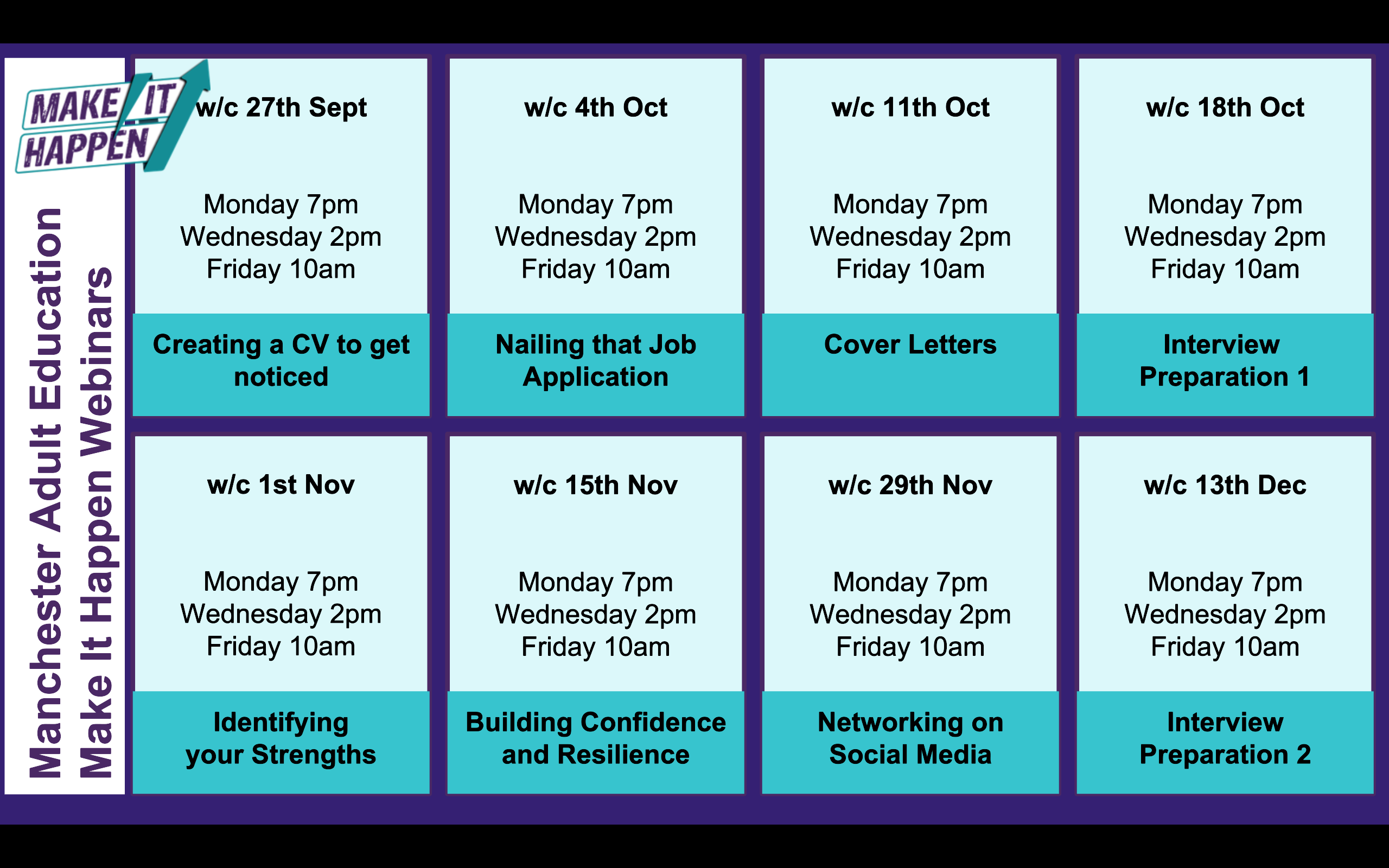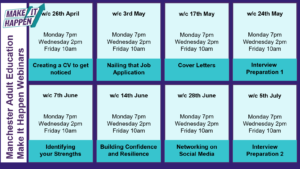 You can join any of our weekly webinars at a time most convenient to you.
Choose from: Mondays 7pm to 8pm
                        Wednesdays 2pm to 3pm 
                        Fridays 10am to 11am
Learners' voices and Information