Current Opportunities
Our centres may be closed at the moment, but you can keep learning with us from home!
This page will be regularly updated with our current opportunities for learning from home.
Register your interest here.
Looking for work or a change of career?  Make it happen now!
Have you recently been made redundant or furloughed? Are you looking for work, a key worker role or a change of career?
We can support you with job matching, interviews, identifying and developing your personal strengths and skills and changing careers.
Please complete this form for employability and work preparation support.
Get online and improve your digital skills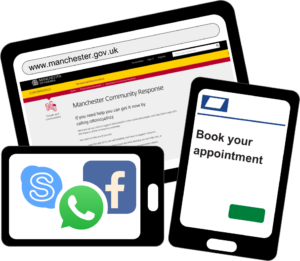 We have so much more online these days, from booking appointments and ordering prescriptions to staying connected with family, friends and colleagues.
Our Digital Skills tutors are offering 1 to 1 support to help you get online to access the services and information you need, as well as support you to make the most of technology to stay connected with others.
It doesn't matter how much you can already do, our teachers will give you the support you need.  Text 07307810306 with your name and we'll give you a call to see how we can help.
Support for parents and carers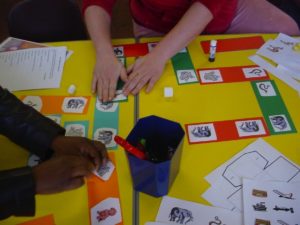 Would you like to support your child's home learning through fun, creative activities and link with other parents to share your successes and challenges in this difficult period?
We are offering online workshops for you and your children to take part in from home in science, maths, English and crafts as well as parenting and family wellbeing workshops.
ESOL – English for Speakers of Other Languages

If English isn't your first language and you want to improve your English skills while you are at home, visit the  Manchester ESOL Advice Service website.
You can do an online assessment which will look at your reading, writing, speaking and listening skills. After you have completed your assessment, an ESOL teacher will phone you to ask you a few questions about your life in the UK and in your country. This will be your speaking and listening assessment. The teacher will tell you about the ESOL level you should be studying at and what course you can do.
Give your maths skills a boost!
Been furloughed and looking to upskill?
Want help finding resources for homeschooling? 
Need to improve your maths to progress in employment?

Our maths tutors are here to help!  Find out more by texting 07307810306 with your name or complete this form.
Mental Health Matters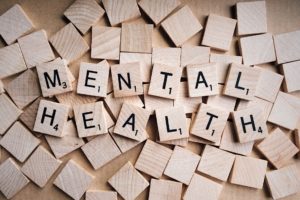 If you want to get a better understanding of mental health, join our Mental Health Awareness course. 
This course will build your understanding of mental health difficulties, challenging some common myths and misconceptions.
Find out more by texting 07307810306 with your name or complete this form.
Improve your reading and writing skills
Join us online for one of our short courses or workshops to improve your English skills.
Effective Online Communication
Avoiding Common Errors
Creative Writing
Book Club
If you're hoping to do GSCE English in September, sign up for our introductory course
Find out more by texting 07307810306 with your name or complete this form.