Has your child missed a lot of their learning during lockdown?
Did you struggle to support your children with schoolwork?
Are you worried about your well-being? 
For more information about our wellbeing offer, see here
Join our free online courses which will help you to support your child's return to school.  The courses will also:
Give parents the tools to help children with their homework

Support your family's wellbeing

Build your confidence – in the family and in your community

Provide a supportive network of other parents and carers

Support your 

children's emotional needs

  
Read what our learners have said about our courses.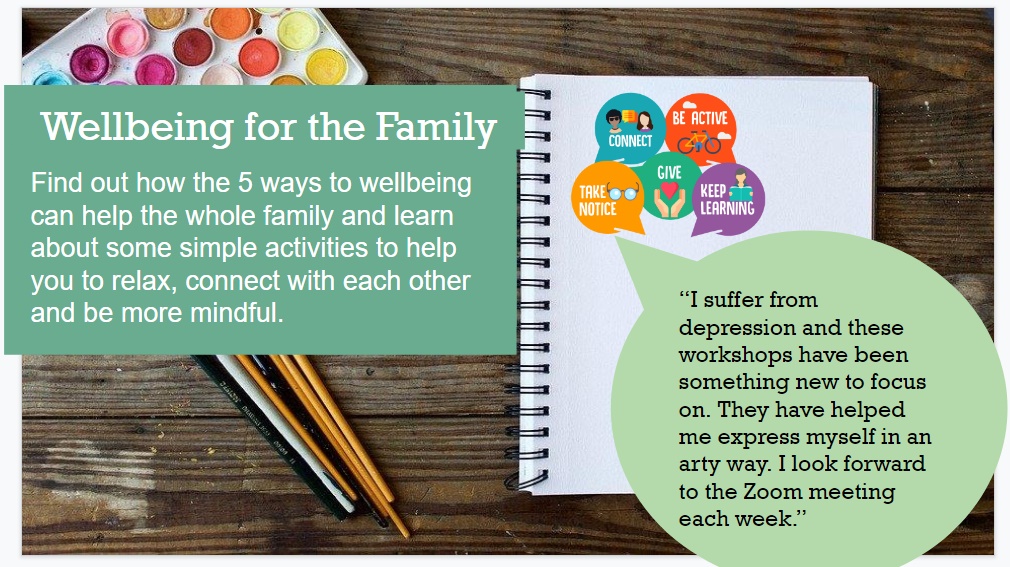 Check out our Family Learning courses starting after Easter
For details of all the courses available, please look further down this page.
Check out our fun Online Spring Workshops
Come along and join our free and fun one-off online workshops.
Make a Spring mobile
What happens in Spring? What animals and plants do we see? Let's make a Spring-time hanging mobile. You will need: coat-hanger or long twig, card (cereal box is fine), coloured papers (junk mail is fine), string/ribbon or a ball of wool, scissors, glue, felt pens, something pointed to make a hole (eg.sharp pencil). Optional extras: feathers, sequins etc.
Sock puppet characters
Bring a sock to life! Invent your own wacky creature or make a character from a book. You will need: a sock, coloured paper or card, PVA glue (plus pot and spreader), scissors, felt pen. Extras: buttons, googly eyes, fabric, wool or string for hair, needle and thread, pom poms, pipe cleaners.
Hedgehog fun and facts
We will find out about what hedgehogs like and how to attract them to your garden. Plus make a hedgehog. You will need some paper plates or cardboard like the back of an old cereal packet, pencils, felt tips, scissors, glue, natural coloured collage materials like brown tissue paper or dried leaves. 
Spring flowers and bunnies
We will make some Spring flowers and bunnies you will need white paper plates, white or coloured paper or card, scissors, glue stick, sticky tape, colour pencils and felt tips or paint. Plus any collage materials like wrapping paper, tissue paper, sweet wrappers or leaves from the garden.
Science: Drawing our Solar system
We will be finding out interesting facts about our solar system and creating drawings of all the planets.You will need large paper, pencils and felt tip pens, and some cups , plates, bowls to draw around.
History: Roman Shield making
You will be looking at the Romans and creating a Roman shield and sword.You will need some strong card, paper, glue, gold  and red paint, silver foil.
Fantasy Art: Dragon's Eye Drawing
You will be looking at Fantasy art, drawing and colouring a dragon's eye. You will need 2B or 4B pencil, paper, felt tips or watercolour paints.
Do you want to know more about our Family Maths course?
Join a workshop and meet the tutor who will explain more about the course and show some examples  of the activities that that have been designed for parents with children in Key Stage 1 or 2 (or both).

Do you want to know more about our Parenting course?
Come along to a workshop where you will learn more about the parenting course and get some strategies around managing tantrums and helping your children listen without nagging, bribing and treats.
Watch Our Family Learning Videos

Spend & Save
Family Maths
Science
Animation
Fun with Numbers
Tall Tales
Family English


Lets Play
Creative Skills for Parents
Fun with Numbers


Parenting Your Teen
Understanding Children's Behaviour
Stress Management
Improve Your Mood
Confident parent, confident child