English Courses (for fluent speakers)
English courses to suit everyone
Achieving a good standard of English will help you secure a new job, get the promotion you deserve or help you gain the qualifications you need for your chosen career.
MAES English provides a wide range of free English courses. We offer face-to-face and online teaching so you can learn at home or come into one of local centres where our friendly, dedicated and supportive team of English tutors will help you develop your English skills, whatever your starting point.
Learners attending an Online class will be expected to attend face to face sessions from time to time for exam preparation and exams.

Interested? Find out more by completing the assessment and enquiry form.
You can also pop into one of our centres to find out more.
Hear what our learners have to say about MAES……
Valentina gained Level 1 and Level 2 Functional skills qualifications at MAES.  She is now on a Foundation GCSE course at MAES. She said: "MAES
is the perfect place to gain confidence,  push yourself in learning and change your life!"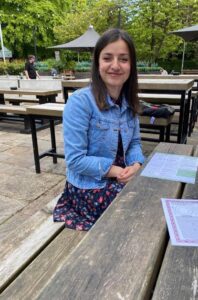 Course Name
Description
Duration
GCSE English
An intensive one-year course for adults who need to gain GCSE English in order to gain employment and/or progress to Higher Education (HE).
32 weeks
Foundation for GCSE English
This course is for adults who want to improve their skills to move to be GCSE-ready.
32 weeks
English Skills for Work
A short course to enhance your employment prospects, to help you work on your skills, become an
effective communicator and to present yourself confidently.
6 weeks
Functional Skills in English - Entry to Level 2
Functional skills is a nationally recognised qualification useful for gaining employment, retraining or advancing your career.
Short and long courses available
English Skills with Grammar Support
Courses for speakers of other languages who have excellent speaking and listening skills, but need to improve their reading and writing. Available at Levels 1 and 2.
Short and long courses available
Book Club
Rediscover your love of reading and become a more confident and critical reader.
10 weeks
Creative Writing
Explore different styles of writing and develop your skills through creating your own work.
4 weeks