Personalised Digital Support
Whether you want to learn how to use your device to do something specific or gain a qualification in digital skills, we have a course that will meet your needs.  We offer:
Personalised learning in a friendly atmosphere

Courses to suit your starting points and motives

Develop your confidence, resilience and adaptability for everyday digital skills

 
Before you start a course, we carefully assess your skills to make sure you join a course at the right level for you.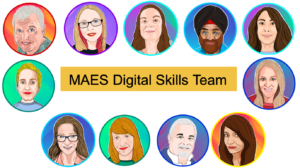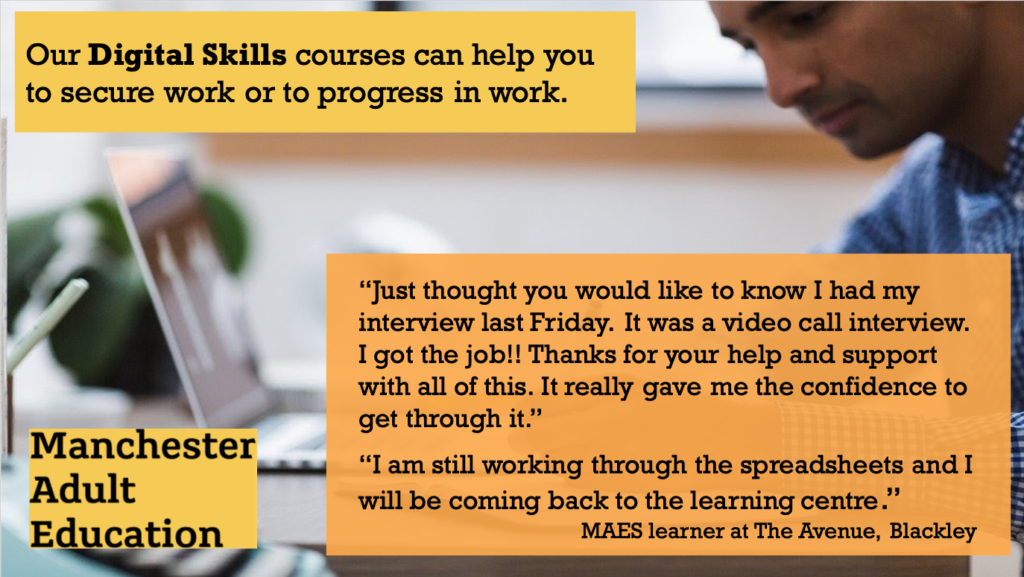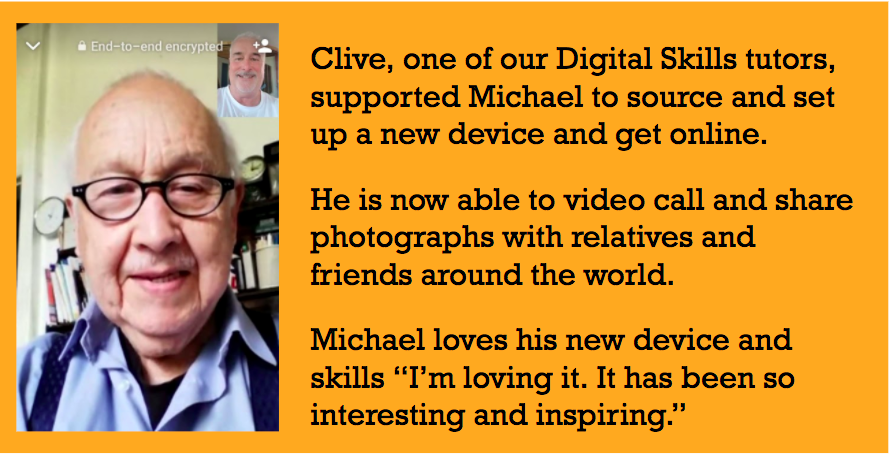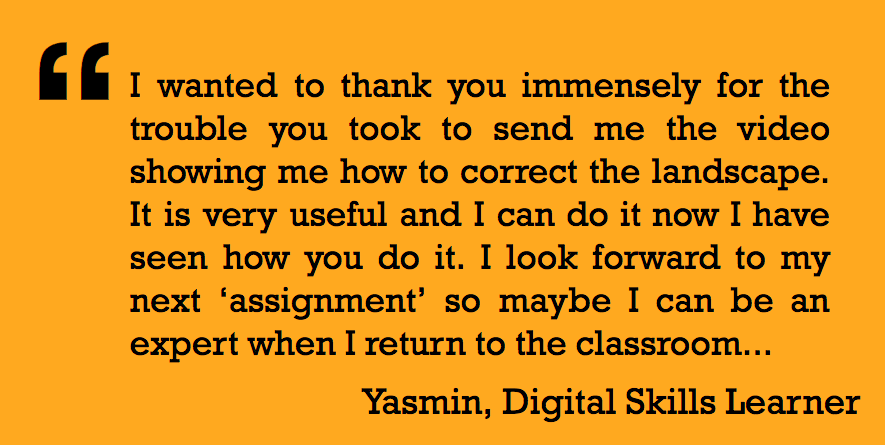 Join a course and get personalised support
To join a course and get personalised support, you need to fill out a short form and assessment. We will ring you to talk about which class would be best for you to join.
• Sue contacted us about our Digital Skills courses through our enquiry form (below link) and after discussion was offered a place at Longsight Library on our Skill Up workshop. Sue joined the workshops and said, "The course is just what I need", "Sonia is an excellent teacher" and "I have tried to find this type of course for ages". 
If you have difficulties completing the online form or have any questions, contact us on 0161 219 6733.
We offer free courses for anyone with no or low digital skills to get an essential digital skills qualification.
Our accessible courses will support you to develop your digital skills for work and everyday life. We will help you to learn how to use different devices and applications to:
communicate and share with others

manage your online activities

use online services and buy things securely online

create and edit documents and digital media

find, manage and store information

protect your privacy and data
Here are details of all the courses we offer within the Digital Skills team.
We can also deliver bespoke provision so please get in touch to discuss your needs.
Course Name
Description
Duration
Welcome to Digital Skills
Come to this session if you want to join a Digital Skills course and want advice about the right course for you. Available at Abraham Moss, Withington and Forum centres only.
Up to 2.5 hours
Skill Up Workshop
If you want to access services, learn how to use a particular device, search for information quickly, save money or improve your employment prospects, this workshop is for you. Whatever your motive, your needs will be built into your workshop sessions at a level which is right for you.
Up to 2.5 hours. You can attend up to 6 sessions.
Digital Beginners
This is the course for you if you are starting out using devices and want to know the basics. This course will introduce you to different devices, develop your confidence and start you on your journey in using your digital skills and the internet more often.
2 sessions a week over 6 weeks
Digital Essentials E3/L1
This course is for you if you want to develop your digital skills for work and at home. You'll learn how to use different devices for handling information, creating and editing, communicating, and transacting while remaining safe, secure and responsible online. You will be able to gain a qualification on this course once the qualifications have been agreed by Ofqual. We hope this will be very soon.
2 sessions a week over 12 weeks. Blended approach.
Make It Happen Core Skills
This course is suitable for you if you are:
•looking to develop your English, Maths and Digital Skills in order to secure employment and be effective in your new role
•preparing for selection processes including aptitude testing
•wanting to upskill to make a stronger impact with employers
•looking to secure a promotion and need to develop your skills
Blended approach. You will work according to your level and your needs.