Whether you're looking to improve your existing skills, develop your confidence, gain qualifications, or learn something completely new, with lots of courses to choose from in a range of subject areas, you're sure to find the perfect course for you at Manchester Adult Education.
Applying to study one of our courses couldn't be easier!
Just book an appointment for your chosen course at a centre and time that's convenient for you and meet with one of our tutors who will help you get started on your new learning journey. If you wish to study more than one course, you will need to complete an application for each of them separately.
If you have any questions before completing your application, you can contact our support team on 0161 219 6733 or email us at maes.info@manchester.gov.uk. Our team are available Monday to Friday from 9:00am-5:00pm.
English for Speakers of Other Languages (ESOL)
English for Speakers of Other Languages (ESOL) courses are aimed non-native English speakers who would like to develop their English language skills and build the confidence to use English in everyday settings. On an ESOL course you will develop your English speaking, writing, listening and reading skills, as well as achieve a great qualification to show prospective employers and add to your CV.
If you're looking to join an ESOL course, please follow the below application instructions:
Visit the ESOL website
Click 'Join a Class' and select the area of Greater Manchester you live in
Click on 'Apply for a Course' and complete the short form
We will then contact you to book your assessment session (at busy periods this could take up to two weeks).
What will happen at my appointment?
At your appointment you will have the opportunity to find out more about your chosen course including when and where it runs. You will also be able to advise us of any additional support that you may need and discuss your long-term career goals. Our team will also carry out a small assessment to make sure that you join a course at the right level for you.
Please bring the following documents with you to your appointment:
Photo ID (accepted documents include passport, driving licence and/or travel pass)
Proof of your address (utilities bill, official letter etc.)
Proof of UK residency (if you've lived in the UK for less than three years)
Your National Insurance number
Proof of any benefits you receive
Certificates for any qualifications you hold e.g., English and maths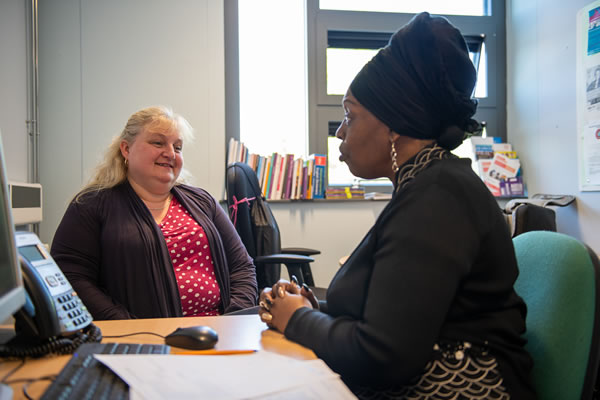 Do you still have course places available for autumn?
You can still apply to study any one of courses and start this autumn. However, if a course is full you may be added to a waiting list and contacted by a member of the team once a place becomes available. Don't forget – you can still attend our Digital Skill Up workshops to brush up on your digital skills in the meantime!
To give you a helping hand, we have listed below the courses that still have availability for studies at each of our adult learning centres.